19th Century Polish Art Gallery
The 19th Century Polish Art Gallery in Kraków, also known as the Sukiennice Museum,  houses one of the largest nineteenth century art collections in the country. 
Exhibitions
The art gallery is located on the first floor of the Cloth Hall (Sukiennice), in the heart of the Main Market Square. It has four enormous rooms in which paintings and sculptures of various periods are displayed. The Bacciarelli Room houses classicist paintings, the Michałowski Room has Romanticism works of art. The Siemiradzki Room accommodates nineteenth century artworks, and lastly, the Chełmoński Room has Polish Realism, Impressionism and Symbolism paintings and engravings.
Centrally located and interesting
The 19th Century Polish Art Gallery is centrally located and thought-provoking. Visitors can calmly stroll through the several rooms gazing at the numerous paintings and sculptures made by the most prestigious Polish artists.  
Visitors can also access the terrace on the first floor which offers stunning views of the Old Town and the Main Market Square.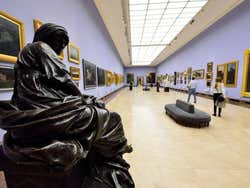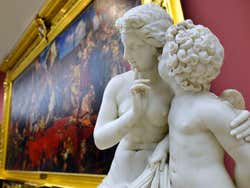 Schedule
Tuesday - Saturday: 10am - 6pm.
Sundays: 10am - 4pm.
Monday: closed
Price
Adults: zł 16 (US$ 3.80)
Students: zł 9 (US$ 2.10)
Sundays: free entry. 
Transport
By foot from the Main Square. 
Bus: 124, 152, 304, 424 and 502.
Tram: 1, 2, 3, 4, 6, 7, 8, 10, 13, 14, 18, 19, 20, 24 and 52.