The Kraków Barbican (barbakan) is the most famous part of the medieval walls still standing and one of the few constructions of its style built in Europe.
History
Founded in 1499, the Gothic-style fortification was designed in response to the Ottoman occupation of Kraków. The Barbican, which is one of the Old Town's gateways is a circular construction of nearly 25 meters in diameter surrounded by a several-meters-thick wall of stone and brick. The landmark is encircled by a moat.
Step back into the Middle Ages
Although the inside of the Barbican is quite bare, with a simple staircase to the first floor, the entrance ticket includes a visit of the outpost and the city walls, which will allow you step back in time to the Middle Ages.
During the visit to the Barbican, you'll see the building's watchtowers and the first floor.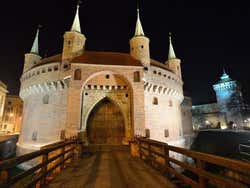 Schedule
April - October: Daily: 10:30am - 6pm.
15 - 30 October: Daily: 10:30am - 5pm.
November - March: closed
Closed the second Monday of every month.
Price
Adults: zł 8 (US$ 1.90)
Concessions: zł 6 (US$ 1.40)
The entrance tickets include a visit to the city walls. 
Transport
Trams: lines: 2, 4, 14, 20, 24, 64, 69 and 72.
Buses: lines 124, 152, 601, 608, 618 and 902.