On the western side of Main Market Square stands the imposing 75-meter tall Town Hall Tower (Wieza Ratuszowa). It is the only remaining element of the old town hall.
The Gothic-styled red brick tower was built during the fourteenth century as part of the first Town Hall in Kraków. The Town Hall was demolished in 1820, but the tower was saved and has remained standing alone up to the present day.
Visiting the tower
Visitors will walk through the main entrance, guarded by two lions made of stone, and start climbing the attraction's 110 steps. The first floor is one of the most charming Gothic-style spaces in the city.
The top floors are accessible by clambering up the steep stairs, where the machinery of the old clock tower is kept, accompanied by a collection of historic photographs that show how the city has evolved.
Visitors can peer out of the tower's small windows; however, the views are not very impressive since the aperture is very small.   
The tower's basement is where the dungeons are located, once used as a Medieval torture chamber. Currently, the basement accommodates a theatre.  
Important part of the history of Kraków
The Town Hall Tower is a crucial part of the history of Kraków and is one of the city's iconic symbols.
If what you wish to do is admire the beautiful landscape from the top of the tower, we warn you that they are slightly disappointing, since the windows are so narrow. The numerous steep steps also make this attraction unsuitable for all the public.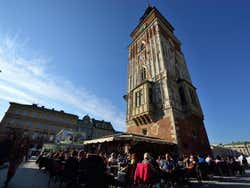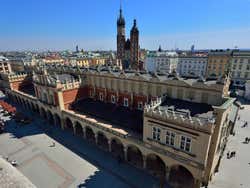 Schedule
April - October: every day from 10:30am to 6pm.
November and December: every day from midday to 6pm.
It remains closed the rest of the year. 
Price
Adults: zł 14 (US$ 3.30)
Students: zł 10 (US$ 2.40)
Monday: Free entrance
Transport
By foot from Main Square.