Gestapo Headquarters in Kraków
The building located on 2 Ulica Pomorska (2 Pomorska Street) was built between 1931 and 1936 as a residence for students from the Silesian region. After the invasion of Poland, it became the Gestapo headquarters in Kraków.
The Gestapo was the Nazi Secret State Police. It was one of the main tools used by the fascists to exterminate the Jews and to imprison Poles and other nationalities that did not share their political ideals. The secret police would imprison and use both physical and psychological sadistic torture methods.
There is also evidence that it was then used by the NKVD, the Soviet Secret Police up until the 1950s.   
Nowadays, the building houses a permanent exhibit called "People of Kraków in times of terror 1939-1945-1956"
Museum
Pomorska Museum features documents, archive material, photographs and various items that will introduce visitors to a recent past and learn how the German SS investigated and tormented its unfortunate victims.
The main highlights are the old cells where the Gestapo would interrogate their prisoners. Visitors can still see the engravings made by the prisoners on the filthy walls that demonstrate the ordeal they suffered.
Not very detailed
Pomorska Museum is not very detailed, so we only recommend it if you are in Kraków for over a weekend and have already visited the city's top attractions. The exhibit is quite small and not very informative.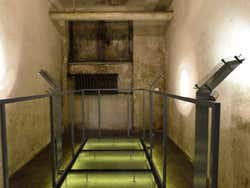 Schedule
November - March
Tuesday, Wednesday and Friday: 9am - 4pm.
Thursday: Midday - 7pm.
Saturdays and Sundays: 10am - 5pm
April - October
Tuesday - Sunday: 10am - 5:30pm. 
Price
Adults: zł 14 (US$ 3.30)
Students: zł 10 (US$ 2.30)
Tuesday: Free entrance
Transport
Trams: 4, 13, 14, 20, 24 and 64.
Buses: 139, 159, 164, 179, 208, 292, 439, 501, 503 and 608.