Rynek Underground is a subterranean route between several Medieval market stalls and other rooms located below the Market Square of Kraków.  
Situated four meters below the Main Square, Rynek Underground (Podziemia Rynku) is a unique museum that takes visitors through the excavated Middle Ages vendors' stalls. It includes multimedia exhibits, videos, and Medieval artefacts that will introduce tourists to the Medieval times in Kraków.
Exhibitions
The museum's permanent exhibit is called "Following the Traces of European Identity of Kraków" and its objective is to retrace the history of the city from the first settlers to the Medieval period thanks to the archaeological site and other interesting photographs and recreations.
Could be a little more interesting
Rynek Underground is one of the most-visited museums in Poland, so if you want to go you should book your tickets in advance. Even though it is one of the most popular foundations in Kraków, the exhibitions could be a little more engaging in our opinion.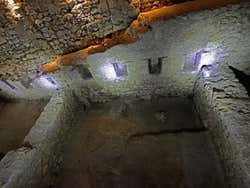 Schedule
Wednesday - Monday: 10am - 8pm/10pm (depending on the season)
Tuesday: 10am - 4pm (closed the first Tuesday of every month).
Price
Adults: 19PLN
Students: 16PLN
Tuesday: free entrance
Transport
At the foot of the Main Market Square.