Jan Matejko House in Kraków
The Jan Matejko House (Dom Jana Matejki), located in the Old Town, was the home of Jan Matejko, one of the most renowned Polish nineteenth century painters.  
The house where Matejko was born, lived, and passed away was transformed into the first Polish biographical museum that reflects his life and work.
Exploring the house
The Museum is extremely complete and shows all the sides of the artist's life: as a husband, student, painter, traveler, and collector. The house museum features objects once owned by the well-known artist and some of his major works, as well as a beautiful collection that he put together during his lifetime. The selection is made up of paintings, weaponry, militaria, and fabrics, among a lot of other rare items.
Pretty interesting
The Jan Matejko House is an independent branch of the National Museum in Krakow. Visitors will find the exhibitions quite fascinating since some of the rooms have been reconstructed as they used to be while the painter lived and the collection is extremely varied and unusual.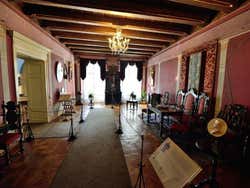 Schedule
Tuesday - Saturday: 10am to 6pm.
Sunday: 10am to 4pm.
Monday: closed. 
Price
Adults: zł 18 (US$ 4.30)
Students: zł 1 (US$ 0.20)
Seniors over 65 years old: zł 12 (US$ 2.80)
Tuesdays: Free entrance
Transport
On foot from the Main Square.