The City Walls of Kraków were established around the Old Town during the thirteenth century. It once had 39 towers, 8 gates and a 6-meter wide moat.  
The thirteenth-century defensive wall was renovated throughout the centuries, and during its culminating point, it measured two-miles-long, was three meters thick and had eight gates and thirty-nine towers. The moat along the whole fortification was six-meters wide.
During the nineteenth century, the no longer useful fortifications were brought down and the charming Planty Park was designed on the site.
The fourteenth century Barbican, standing by its side, was also part of Kraków's defensive system.
The city walls today
The city walls were demolished, except for a fragment of 200-meters that includes St. Florian's Gate and Carpenter's Tower.
Visitors can climb on the defensive walls to see an exhibition about the ancient fortification that features images of the parts that were flattened.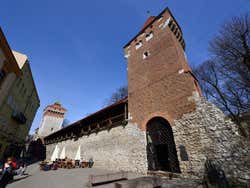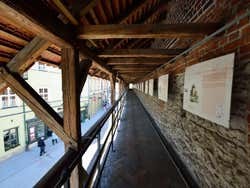 Schedule
April - October: Monday to Sunday: 10:30am - 6pm.
Rest of the year: closed
Price
Adults: zł 8 (US$ 1.90)
Students: zł 6 (US$ 1.40)
Transport
Tram: 2, 4, 14, 20, 24, 64, 69 and 72.
Bus: 124, 152, 601, 608, 618 and 902.