National Museum in Kraków
Established in 1879, the National Museum is made up of several buildings that house both permanent and temporary exhibits. 
Housed in an imposing contemporary building founded in 1934, the main branch (Gmach Glowny) of the National Museum in Kraków (Muzeum Narodowe w Krakowie) features an extensive twentieth century Polish art collection. It includes numerous paintings and sculptures by the most-renowned Polish artists such as Stanisław Wyspaiński and Włodzimierz Tetmajer. It also houses a large collection of Polish weaponry and decorative arts and crafts.
The National Museum of Poland has other independent departments in the city. The most-visited are Jan Matejko House, the Czartoryski Museum or the Nineteenth Century Polish Art Gallery.
Exhibitions
The Museum houses three permanent exhibits:
20th Century Polish Art: With over 400 works of art, this exhibition offers a detailed exploration of the main twentieth century art movements in Poland.
Military exhibition:  This collection explores the military history of Poland with over 1,600 pieces of armor and weapons.
Decorative Arts and Crafts Gallery: This gallery has an excellent collection of decorative arts chronologically placed from the Middle Ages to the Art Nouveau.
For art fans
The main branch of Poland's National Museum in Kraków is especially interesting if you like art, militaria collectables or decorative arts. Tourists that don't appreciate art as much might not find this museum as stimulating.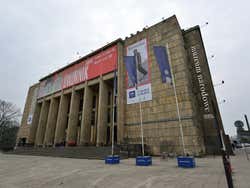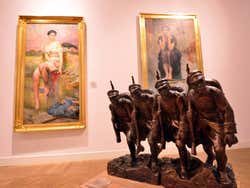 Schedule
Tuesday - Saturday: 10am to 6pm.
Sundays: 10am - 4pm.
Mondays: closed
Price
Adults: zł 15 (US$ 3.60)
Students and seniors over 65 years old: zł 10 (US$ 2.40)
Sundays: Free entry