Collegium Maius was built as the main campus of Kraków Academy, the first university in Poland, during the fourteenth century. One of the university's most famous students is Nicolaus Copernicus.
The "Grand College" is an attractive example of fifteenth century Gothic style architecture with an inner courtyard surrounded by a series of arches made of brick and stone.
Collegium Maius today
The building features the Jagiellonian University Museum that houses an extensive collection of historic instruments once used for astronomy, meteorology, cartography, physics and chemistry.
Perfect for a short visit
One of the highlights of the Collegium Maius is its courtyard clock. The clock performs every two hours, when a parade of wooden figures representing important professors and kings of Poland come alive to a pleasant tune.
The clock is a lot of fun to see; however, the guided tour of Collegium Maius is a little long. Thus, we wouldn't include this attraction on our top list.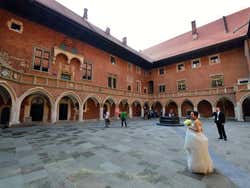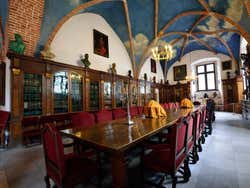 Schedule
Monday - Friday: 10am to 2:20pm.
Saturdays: 10am - 1:30pm. 
1 April - 31 October: closes at 5:20pm. 
Price
Temporary Exhibition:
Adults: zł 12 (US$ 2.80).
Students: zł 6 (US$ 1.40).
Children under 7: Free.
Full Exposition:
Adults: zł 16 (US$ 3.80).
Students: zł 12 (US$ 2.80).
Children under 7: Free.
Transport
Trams: 2, 13, 18 and 69.
Buses: 124, 152, 304, 424, 502, 601, 618 and 902.