Situated in Kazimierz district, the Old Synagogue was built in the fifteenth century by the Czech Jews that immigrated to Kraków and the rest of Poland. 
The Old Synagogue is currently the oldest free-standing Jewish temple in Poland.
History
The Old Synagogue was established in Kazimierz when the district was first populated by a large Polish Jewish community, in the fifteenth century. The edifice was reformed several times throughout the centuries. During World War II, the Nazis plundered and wrecked the synagogue, transforming it into a storehouse.
Once the Nazis were defeated, the religious site was rebuilt and currently houses part of the Historical Museum of Kraków.
Nowadays
The Old Synagogue of Kraków is one of the most valuable Orthodox Jewish synagogues in Europe. It was transformed into a branch of the Historical Museum of Kraków that reflects the daily lives of the Jewish community that lived in Kazimierz before the Second World War. Although the exhibits are interesting, the building's interior is completely reformed, so a little bit disappointing.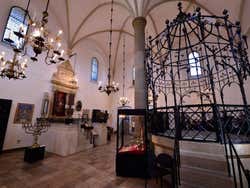 Schedule
November - March:
Monday: 10am - 2pm
Tuesday - Thursday, Saturdays and Sundays: 9am - 4pm.
Friday: 10am - 5pm
April - September:
Monday: 10am - 2pm
Tuesday - Sunday: 9am - 5pm. 
Price
Adults: zł 10 (US$ 2.40)
Students: zł 8 (US$ 1.90)
Monday: free entry
Transport
Trams: 3, 8, 9, 24, 50 and 69.