Pharmacy Under the Eagle in Kraków
Although it isn't as well-known as Schindler's Factory, the Pharmacy Under the Eagle (Apteka pod Orlem) played a critical role in the Kraków Ghetto, as the owner of the apothecary helped thousands of Jews.
An exceptional pharmacy
When the Germans established Podgórze, the largest ghetto in Kraków, they advised the Poles to leave the district. Tadeusz Pankiewicz, a Polish pharmacist, owner of Under the Eagle pharmacy declined the offer to run another pharmacy on the non-Jewish side. Under the Eagle was the only pharmacy that remained open in the Ghetto.
Under the Eagle became a strategic location for the imprisoned Jews that would be frequently given free medication by Pankiewicz and a safe meeting point for the Jewish leaders.
The pharmacist saved numerous lives by providing the older generations with hair dye to disguise their identities and sedatives to the children to help them hide. The pharmacy survived the war and closed in 1967. Years later, it was transformed into a very poignant museum.
Museum
The pharmacy was restored as it was during the war and houses a permanent exhibit that reflects the decimation of the Jewish people and how countless Jews were rescued by Pankiewicz.
Less impressive than Schindler's Factory, the Pharmacy Under the Eagle is still worth discovering.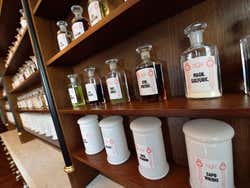 Schedule
Monday: 10am to 2pm.
Tuesday - Sunday: 9am to 5pm (closed the second Tuesday of every month). 
Transport
Trams: 3, 8, 9, 24, 50 and 69.
Buses: Z69.